Posted by
Erica
May 21, 2013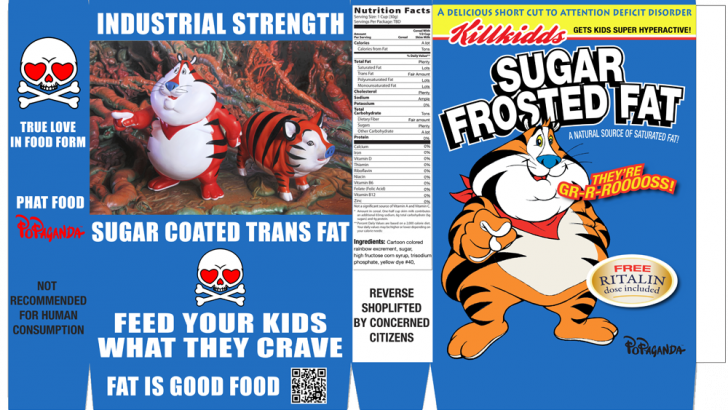 Today, May 21st, POPaganda will debut the first of the cereal killer series product packaging at 12pm EST! First up is "Sugar Frosted Fat", a cereal box featuring our beloved friend and cereal killer, Fat Tony! 
Give your children a natural source of saturated fat with Sugar Frosted Fat breakfast cereal! Sugar Frosted Fat is a delicious short cut to attention deficit disorder and an excellent source of childhood diabetes!! 




♪♫ They're more than good, THEY"RE GR-R-ROOOOSS! ♪♫
Go download yourself a box of Sugar Frosted Fat NOW! 
Similar posts
Thursday, November 19, 2020 - 10:53pm

Ron English's classic Lady Lips image is now three-dimensional as a life-size sculpture and vinyl art-toy sculpture release! 

Wednesday, February 26, 2020 - 10:30am

Join us on February 28, 2020, at 6 pm in SoHo, NYC to celebrate the amazing artwork of Ron English with some very special exclusive releases!