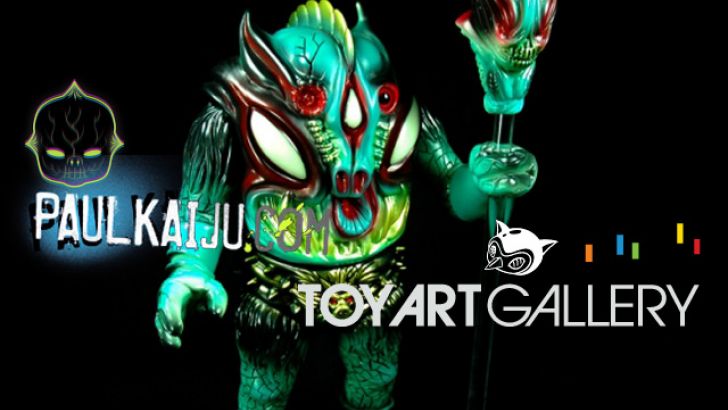 Telling the tale of a pure boy Akira possessed by the fiendish demon Amon could be told countless ways, but under the brilliant mind of Go Nagai that boy was able to use his innocence to control the hellish creature and transform himself into… Devilman! An international phenomenon now, Devilman started in '70s and was a huge influence on me as well as, it seems, PaulKaiju! The newest edition of PaulKaiju's 10-inch tall "Pollen Kaiser," produced by Toy Art Gallery, will be the beautiful "Devilman GID," cast in glow-in-the-dark sofubi that is coated in multiple translucent sprays, various rubs, and tons of detail that all lead to a Devilman influenced piece. The figure will also feature its signature removable staff weapon and a clear red eye… or, if you are truly lucky, the completely clear eye chase version! Available on Friday, June 21st, 2013 at 3PM Eastern time, the "Pollen Kaiser (Devilman GID Edition)" will be limited to one per customer and cost $195 each in the Toy Art Gallery online shop.
Similar posts
Tuesday, June 23, 2020 - 4:01pm

Pulled in beautiful bright green Sofubi, the newest release of the Kaaarg is ready to hit your shelves!