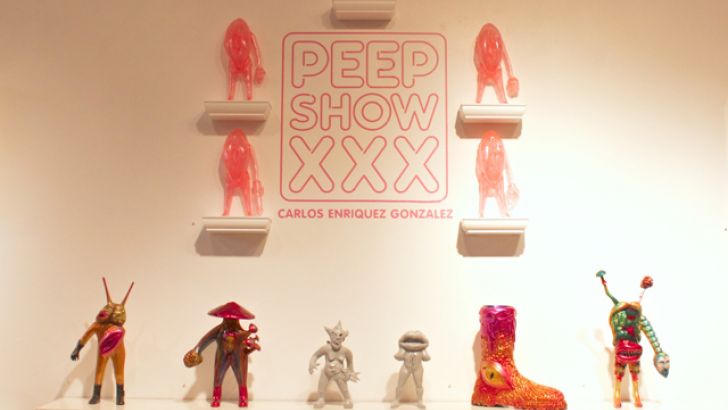 Saturday night (July 13th) was the opening of Carlos Enriquez Gonzalez solo exhibition Peep Show. Carlos made a special trip from Venezuela to be here for the opening, and turn out for the show was amazing, even if the title of the show did create some drama in Beacon. If you didn't have chance to make it to the show, it runs until Aug 3rd, so there is plenty of time to plan a visit. 
If you really can't make it to the space, you can always view the remaining pieces from the show in the Clutter store here. For prices please email info@cluttermagazine.com. 
- Carlos Enriquez Gonzalez & Girlfriend Ivanova
- Carlos Enriquez Gonzalez & Ron English
- Carlos Enriquez Gonzalez & Greg Mishka
Similar posts
Monday, September 3, 2018 - 10:02pm

The Clutter Gallery is proud to present an amazing solo spectacular from artist duo, Horrible Adorables! 

Monday, September 3, 2018 - 9:50pm

From the farthest reaches of Outer Space, beyond the Gum Gum Galaxy and the Nougat Nebula, lies a planet of Magical Sparkle Glitter. Once a year the inhabitants of the tinsel covered shiny wonder that is Planet Rainbow Sparkle invade the Clutter Gallery.