Posted by
Hannah
July 06, 2015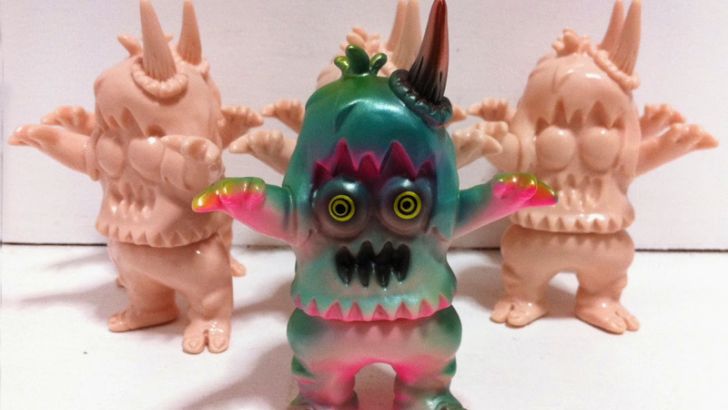 Hey everyone! Rampage has opened up a few spots for both level 1 and level 2 UGLY CLUB memberships!
For those of you who are into the cute yet ugly things that Rampage creates, this is really targeted at YOU!  Of course this doesn't mean that club exclusives are strictly limited to any certain type of toy - the gammit shall be ran!  
The different levels they have available are:
Level 1:  Basic "Ugly Club" Membership.  $75
Includes:
-Club initiation "Electric Boogaloo" Ugly Unicorn (pictured above).  This guy will come bagged with screen printed header card.
-Ugly Unicorn Sticker set (2 holographic stickers)
-Silk screened, numbered, signed and stamped Membership card.  This card will grant you dibs and discounts and maybe surprises when shown at future events!
-Enrollment in the "Ugly Club" mailing list – for exclusive releases, dibs on "ugly stuff" and other sorts of fun.

Level 2: Premier "Ugly Club" Subscription Membership. $130
Includes:
-All of the Basic Membership benefits (Initiation UU, Stickers, Membership card, Mailing list enrollment)
-ONE custom (one-of-a-kind) Ugly Unicorn (probably mailed later and separately from the initiation UU)
-3 club exclusive UU's of your choosing (choose any 3 from those offered via the Ugly Club mailing list – at no extra costs for shipping or otherwise).

check it out and have a peek here!
Similar posts
Saturday, January 23, 2021 - 4:36pm

Clutter has teamed up with NY-based artist Kyle Kirwan to bring you a brand new designer toy platform, The Brick!

Wednesday, August 12, 2020 - 3:07pm

We are so excited to announce the first 3oz Canbot Blind Box Series!  A limited-edition toy mini-series launching through Kickstarter on Thursday, August 13th.