Posted by
Brian
July 11, 2018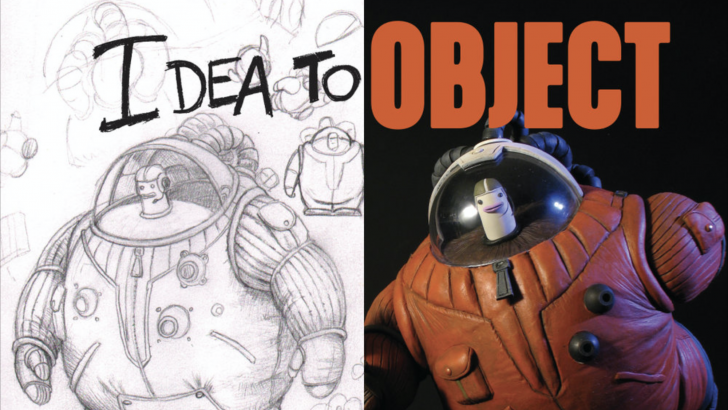 Starting August 4th at the Museum of Art and History in Lancaster, California there will be a new exhibit called The Robot Show that will be running until September 30th. Among an impressive line up of talented artists who specialize in the art of robots is a familiar name to the toy art scene, Dave Pressler.
Dave Pressler has had an extensive career in arts and entertainment, working in animation, special effects, puppeteering, acting as well as artwork in a variety of mediums, including acrylic paints and toy art. He's worked with companies such as The Jim Henson Company, Cartoon Network, Disney, DreamWorks, Kids WB and Fox Kids, where he always brings his unique style of robots and strange creatures. In the toy art world his work has been highly regarded, with notable pieces including Necessaries Toy Foundation's Mark Ryden's YHWH, Camille Rose Garcia's "Camille's Girls," The Ron English "Rabbbit" figure, Brendon Monroe's "Sour" for Android 8, Nathan Jurevicius "Monkey King", and Luke Chueh's "Black in White". In addition to that, his own characters of "Angry Clobber Monkey" and the "Shut Up and "Draw Robot" are widely loved.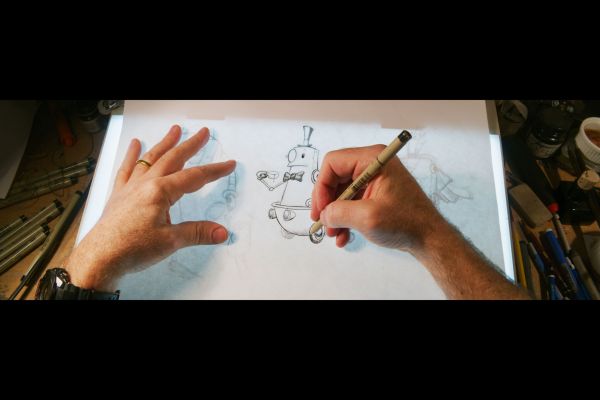 In The Robot Show, along with being a retrospective on his career of more than twenty years, Pressler hopes his exhibit will help to demystify the process of creating art. Pressler says that "art is like any other skill or trade, you learn your tools, you learn your technique and you work at it. And if you work at it, you can bring your ideas into the world." To help communicate this message, Pressler plans to show many works of art in each stage of creation. From a quick sketch on a Post-It note to a pencil sketch to a painting. You'll also get to see his resin process, including original clay sculptures, molds as well as pictures for each phase of production and refinement, culminating in the polished final product.
If that weren't enough of a behind-the-scenes peek into the creation of art, for the duration of the exhibit, Pressler is having key parts of his studio moved into the MOAH on a ten by twenty platform, where he will actually be working on his artwork live for scheduled hours.
For a few lucky people, there will also be a giveaway at the exhibit in the form of an eight-inch printed figure of the "Shut Up and Draw Robot." Limited to just fifty pieces, each one is hand-painted and numbered by Pressler and will include his favorite drawing pencil, a Staedtler 3B art pencil. Aside from being an awesome robot, Pressler sees the character as part of his overall message. Rather than being in your head and awaiting inspiration, Pressler says the "Shut Up and Draw Robot" is a call to action. It says to create your ideas, put them on paper and hone your craft.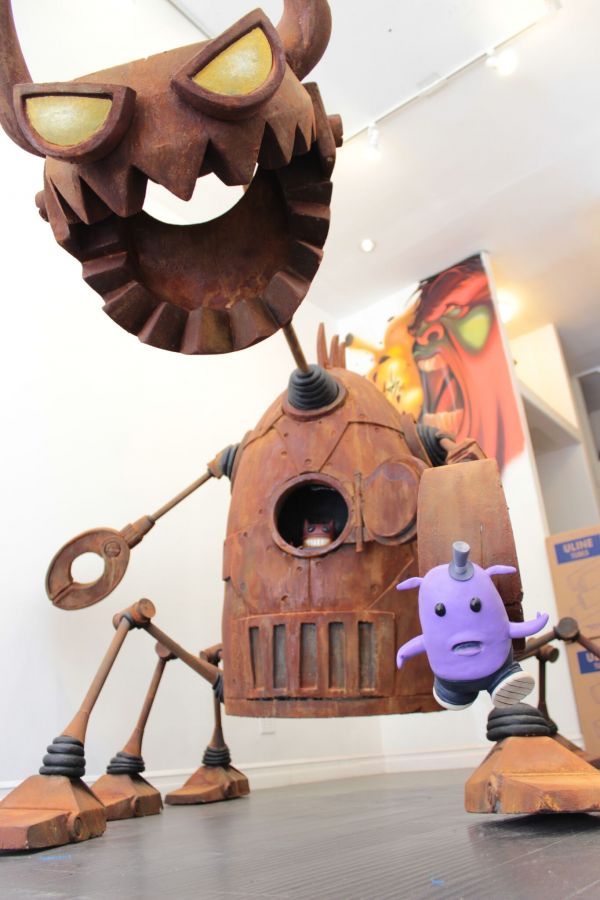 So check out The Robot Show from August 4th to September 30th at the Museum of Art and History in Lancaster, California and check out all the robots!