The Clutter Gallery is extremely excited to present Deadweight; A solo show, by incredible artist Colus, who will be in attendance!
About the Artist:
Colus is a self-titled designer label from artist/animator Colus Havenga. Born in Cape Town, South Africa, his passion for design, animation, and designer toys, moved him to San Diego, California where he currently resides. 

Colus explores themes of morality through to mortality with symbolic, bold, contrast-rich works. Using underground tones and often leaving questions unanswered, his use of a greyscale color palette makes his work iconic and daring.
The opening reception will be free to the public and take place on Aug 11th, from 6-9pm, at Clutter Gallery in Beacon, NY. 

Free beer provided by our friends at Lagunitas and Mike's Hard Lemonade, PLUS amazing Gluten-free treats from North Brooklyn Eats!! 

Sales will be first offered to our Preview list subscribers. An email will be sent out on Saturday the 9th, at 12 (noon) est, with a link to preview and purchase. To sign up to the list please follow this link:
http://www.cluttermagazine.com/about/gallery-preview-list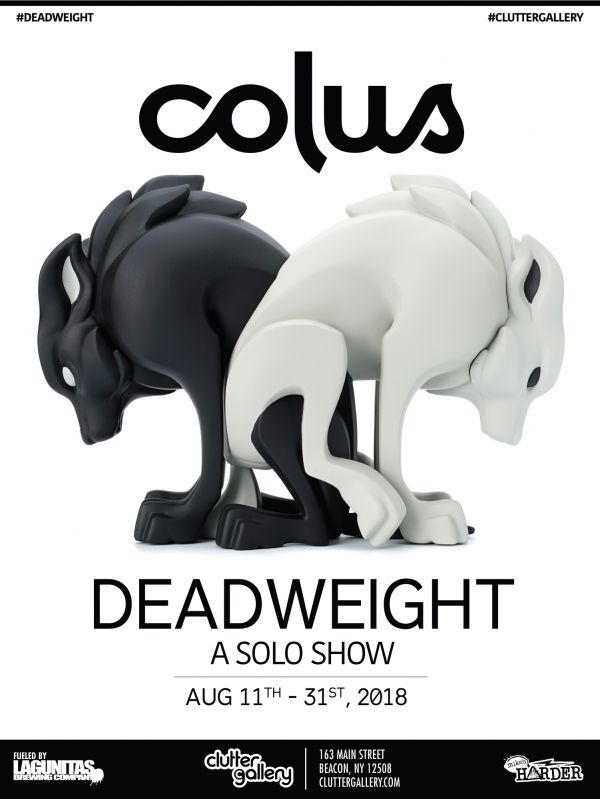 Similar posts
Monday, September 3, 2018 - 10:02pm

The Clutter Gallery is proud to present an amazing solo spectacular from artist duo, Horrible Adorables! 

Monday, September 3, 2018 - 9:50pm

From the farthest reaches of Outer Space, beyond the Gum Gum Galaxy and the Nougat Nebula, lies a planet of Magical Sparkle Glitter. Once a year the inhabitants of the tinsel covered shiny wonder that is Planet Rainbow Sparkle invade the Clutter Gallery.