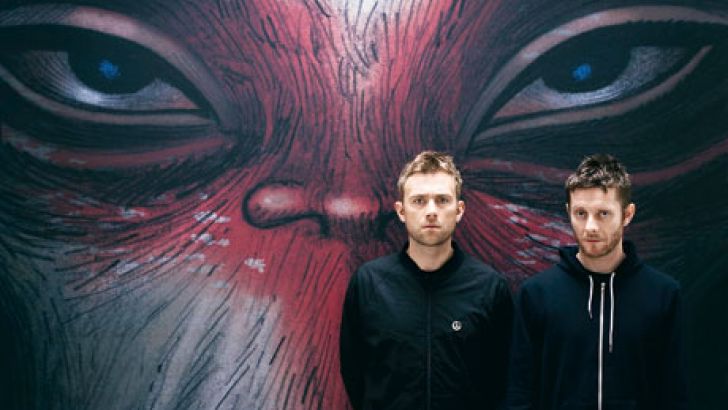 Ok so I have been meaning to post this entry for over a week now, and reading the Triclops blog reminded me to post it. On the 30th of June the Clutter crew took a trip to Manchester to immerse ourselves in the utter genius that is Monkey a Journey to the west. We didn't really know what to expect from an Opera created by Jamie Hewlett and Damon Albarn, apart from that it would be visually stunning and the music would be second to none, but what we saw unfold before us was like magic, it was truly amazing.
Jamie kicks it all off with an animation to rock your socks off explaining the origins of Monkey. There is then a smooth transaction to live actors/circus performers who tell and sing the tale of Monkeys Journey. The music, actors, and animation sit perfectly hand in hand with each other and makes you wonder why it hasn't been done before.




Damon's choice of eerie and evoking instruments instils a sense of the east from the outset, and i was spot on when I heard the use of the saw!! There is just so much to see on stage, each scene is jam packed with action that takes your breath away.



The opera is sung is mandarin, but you can easily follow the story thanks to the amazing actors and animation. Actually for about 60% I had this guy sitting in front of me who keep moving his head and this was really starting to get on my nerves, like big time, then I spotted this light and looked over the edge to the stage bottom where there, running across the bottom of the stage were subtitles!! Doh!! Actually I preferred it before I realised they were there. There was so much to take in on stage I found it hard to look at everything, and then once I noticed the subtitles I felt the need to read them, which just distracted me. Plus the English translation was a bit too literal in places lol.
I would like to see a story book released to go alongside the opera with the story in. Then it doesn't matter if you miss them (Kirsty would like to see it be pop-up).



Anyway before I go on too much, Monkey is truly amazing and if don't go to see it your depriving yourself!! It moves onto Paris next in September, and I will be defiantly making the trip.



manchester international festival



oh and the BBC ran a great documentary on how the whole thing evolved. There are clips here BBC, def worth a watch.

 
Similar posts
Wednesday, March 21, 2012 - 3:19pm

ABSOLUT Vodka has commissioned Jamie Hewlett to create an awesome limited edition Absolut London Bottle.

Tuesday, October 25, 2011 - 2:28am

I love this bad ass Yakuza Chaos Monkey by artist "Fakir". He's a demon in monochrome and devilishly out of my wallets reach at $417.00. Not that he isn't worth it for the awesome detail work im sure went into it.