Posted by
Devin
November 30, 2010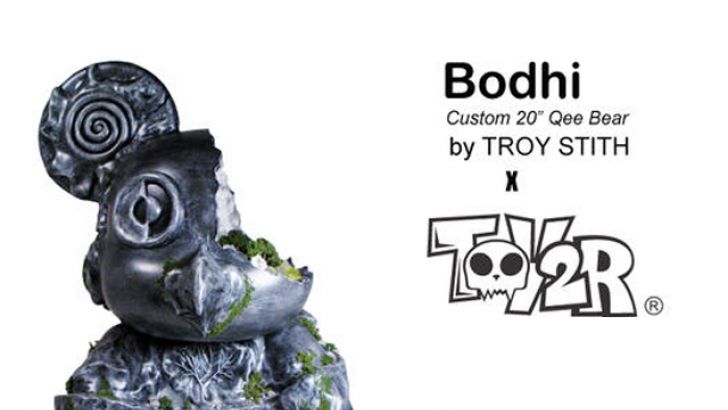 This Year TOY2R is showing of some custom 20" Qee's at Art Basel in Miami for their Qee to the city toy show. I should start by saying I've never been coo coo for Qee's but I can love anything if its properly customized. That's the soul of a custom, taking something ordinary and re-imagining it in a way you never thought possible. Like remixing for dj's or exploding for zeppelins.



Troy Stith's Bodhi is my favorite of the three for this year's show. It feels like something Lara Croft needs to climb or Kratos has to smash. My mind instantly plays out every scene where a good guy see's a statue in the corner and you don't know if its gonna wake up or not. Also skull knee caps are neat.
[ibimage==149==news_thumbnail==news_big_image==self==ibimage_imagecenter]
Next we have Scotty the Bearbarian which is already a win in the pun area. Kevin Gosselin's Qee is definitely awesome in detail. Every part of this piece looks finely combed and meticulously worked on. The only thing I would have liked to see is a bit more stylization. Mr.Gosselin has the talent I just want to see something that says this comes from the artist. Also he need's to smash one of the other Qee's with that mace a la Braveheart.
 [ibimage==150==news_thumbnail==news_big_image==self==ibimage_imagecenter] 
Finally we have RSIN's untitled Qee, which is a colorful dia de los muertos inspired piece. I've seen a lot more day of the dead work in recent days. I love the style, I have even thought of having a day of the dead themed wedding at one point and I'm whiter than saltines. So I get the attraction I just think its becoming a bit overused of late. The detail is awesome and the design is cool. I just want something to push me over the top. The doll is sweet and the colors are really vibrant and textural. But gimme something different to stand out from other similar pieces.
Similar posts
Friday, May 12, 2017 - 9:41am

Clutter Gallery is proud to announce It Sees All, a solo show by Yu Maeda!!