Posted by
Nick
March 10, 2011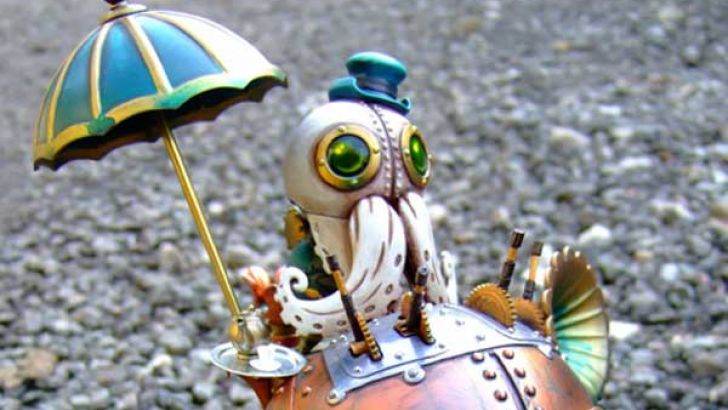 We're starting to get some teaser pics through for Doktor A's upcoming solo show at Ik'sentrik: Tarnished Daydreams. One of the finest of the UK's customisors, sculptors and artists has been busy as ever putting together new creations in his steampunkish, mechtorian style. This doubled up Stephen Le Podd custom is yet another fine example of the detailed beauty that has made the Dok such a sought after customiser. More pics inside...
And whilst the Doks customs are amazing, i hear there are more creations that will be the ones to really take your breath (and hard earned cash) away. Can't wait to see this show, taking place on April 1st at Iksentrik in Bath.
TARNISHED DAYDREAMS

Ik'sentrik 3 George Street, Bath, BA1 2EH, UK

www.iksentrik.co.uk
The Steam Locomotive Perambulator

One of Stephan LePodd's adventuring machines. Over the years Stephan has commissioned various vehicles and contraptions to aid his speculative travels around the planet. From flying platforms to burrowing torpedoes. This slightly egotistical creation is mostly used around the city on high days and holidays.
Customised Mechtorian toys by Mindstyle.

Vinyl, Lead, ABS, Paper, Brass, Copper, Rubber, Steel, Wood' Bamboo, Found Objects.
Denton Snark

Head of museum security, Denton was initially hired for his fearsome visage. A soft-spoken and genteel character in reality, his frightening dental work has proven a useful visual deterrent to would be trouble makers. Though he is proud of his office he is still a little self conscious of his appearance.
Customised "Benny" toy designed by Kathie Ovivas.

Vinyl, Lead, Acrylic, Copper, Rubber, Steel, Polymer Clay, Found Objects.
Similar posts
Tuesday, April 5, 2016 - 1:43pm

Beans, beans, they're good for your heart! Taylored Curiosities are bringing plenty of 'em to ToyCon UK.

Tuesday, November 17, 2015 - 1:12pm

This year's Designer Con will see the launch of a new collaborative art toy created by Doktor A using Luke Chueh's vinyl "Target" bear figure.