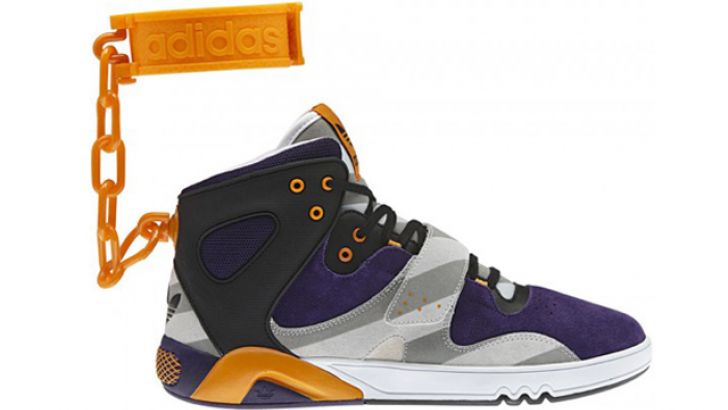 Have you guys seen these Adidas sneakers? Adidas made these because your sneaker game is so hot you gotta lock your kicks to your ankles... Isn't Adidas thoughtful and considerate? 
The name of this shoe is the JS Roundhouse Mid Shackle. These are freaking ridiculous! And ugly! And Adidas is incredibly insensitive. 
On one hand these shoes make me laugh because it IS so ridiculous and insensitive. It's sort of like a "fuck you" to the world and I'm always down with a bad attitude & making people gasp in horror.  Obviously, Adidas doesn't care if they offend anyone as long as they make some cash. Even now, in this corporate controlled world we live in, the fact that Adidas intended to release these shoes shocks me.  
Were the 'mainly white' fat cats at Adidas laughing and snickering when they pictured black kids walking around in these? This design never put the images of prisoners hitting rocks on a chain gang or slaves shackled up in the  minds of Adidas?  
I can't believe the person who hatched this idea drew enough positive feedback to get a green light for this! Maybe Adidas are desperate for some publicity, or am I just out of touch? 
Dr. Boyce Watkins, a professor at Syracuse University wrote "Shackles. The stuff that our ancestors wore for 400 years while experiencing the most horrific atrocities  imaginable. Most of which were never documented in the history books and kept away from you in the educational system, all so you'd be willing to put shackles on your ankles today and not be so sensitive about it."
Some people will say that my point is an overreaction . I think Dr. Watkins summed it up nicely "There is always a group [of black people] who are more than happy to resubmit themselves to slavery.' That's what makes this even more offensive. Adidas knows that group [of black people] is out there and they (Adidas) are waiting to take their money."
If Adidas is just trying to capitalize on some kind of prison fashion they screwed up there too. Being a convict doesn't mean you're hard or whatever you want to call it... The prison system ruins lives - whether convicts deserve it or not. 
This is a corporate version of Sid Vicious wearing a swastika, and that sucks. Sid Vicious was a junkie kid looking for a reaction. I suppose that reaction, or attention is what Adidas is after as well, but there is something insidious about a huge corporation playing a kid's game.  
This is what Adidas has to say about the shoes "The design of the JS Roundhouse Mid is nothing more than the designer Jeremy Scott's outrageous and unique take on fashion and has nothing to do with slavery. We apologize if people are offended by the design and we are withdrawing our plans to make them available in the marketplace."
What else can I say? These shoes are ugly and this move by Adidas was insensitive and stupid.
I can't imagine these sneakers are good for basketball. It looks like a wicked rash could easily form under those velcro shackles. 
Similar posts
Friday, December 14, 2012 - 11:42am

adidas Originals recently dropped the classic 90s style basketball shoe the Torsion Attitude in two awesome colorways.

Friday, September 7, 2012 - 4:51pm

Check out these new adidas Originals Honey Zip sneakers, inspired by Japanese street style.