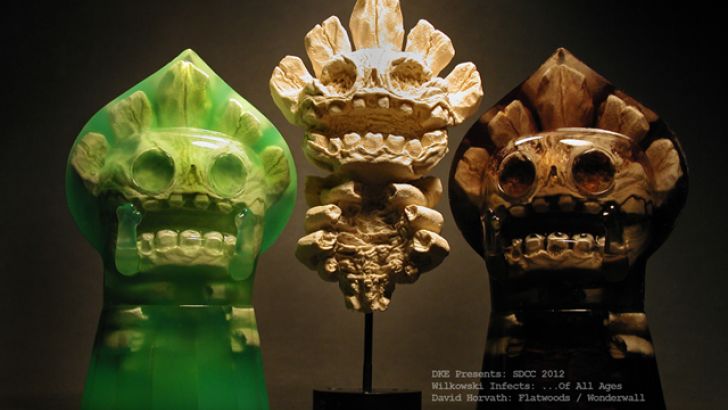 Wisconson-based artist and sculptor Scott Wilkowski's rise to recognition began with the unveiling of new process he'd developed at the 2009 DesignerCon: as part of The Custom Yoka Show, he recast the Yoka bear platform in transparent resin with a hand-carved skeletal system suspended within. An instant sellout and success, Wilkowski has continued to develop this technique, which culminated with the Skin Deep show of several pieces at last year's DesignerCon… releases which garnered him enough public and critical acclaim that he's up for the Designer Toy Awards' Best Customizer title this year.
At this year's San Diego Comic-Con (SDCC), Wilkowski will be unveiling six brand new editions of beloved designer toy platforms reimagined in his now iconic style. Under the show banner …Of All Ages, the pieces will be on display and for sale starting July 11th and running throughout the SDCC weekend at DKE Toys' booth #4728. Each of the six hand-cast resin figures Wilkowski made for SDCC will be in a 50 copy edition, split into two colorways of 25 copies per platform. All these pieces are done with the gracious permission of the designer of the original release:
Ferg's Misfortune Cat ($125 ea.), David Horvath's Flatwoods ($125 ea.), Frank Kozik x Kidrobot's 5-inch Labbit ($150 ea.), Ron English's Mousemask Murphy ($250 ea.), Brandt Peters' Skelve ($300 ea.) and Kathie Olivas' Two-Faced Hazel ($300 ea.).
Not only will Wilkowski be in attendance at the convention, but also English, Ferg, Horvath and Kozik will be present; each doing signings throughout the weekend at the DKE Booth.
Similar posts
Thursday, November 19, 2020 - 10:53pm

Ron English's classic Lady Lips image is now three-dimensional as a life-size sculpture and vinyl art-toy sculpture release! 

Wednesday, February 26, 2020 - 10:30am

Join us on February 28, 2020, at 6 pm in SoHo, NYC to celebrate the amazing artwork of Ron English with some very special exclusive releases!