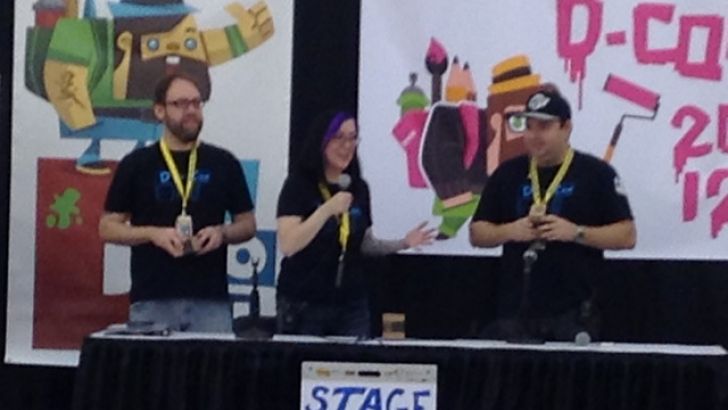 Pictured above are October Toys's George & Ayleen Gaspar with 3D Retro's Ben Goretsky leading the largest (to date) blind box opening for Toy Break at Designer Con 2012. It's important to mention these individuals as well as Dov Kelemer & Sarah Jo Marks of DKE Toys, since they are the true reason that Designer Con exists… And it was an absolutely amazing event dedicated to nothing more than toy loving fans interacting with toy making (& selling) artists. It was stunning to see one place loaded with so much talent both new and old.
And while many great nuggets of information were around for the collecting, possibly one of the biggest tidbits of news to drop at the event was that…
…Designer Con 2013 will be expanded into a two-day event, taking place on November 8th and 9th! Set your calendars and clear your schedule, this is an absolutely worthwhile trip! I'll be recapping my visit to this year's D-Con over a series of posts, but — let's put it this way — it's one of the few places that a fan can rub elbows (and see amazing pieces) in person from talents like kaNO!
Seeing some of kaNO's work up-close and personal was amazing. Unfortunately, he didn't really have much with him… and he was mostly taking pre-orders on pieces. But, when you're a busy and talented guy, I suppose these are the types of things that can easily happen.
Bigfoot One was also present, showing off a variety of wares including his Fujisan and new vinyl figures. He was coloring Bigfoot prints for fans, which was a real treat for people…
And it was magical looking over the high quality wares of Blamo:
And also at the Blamo booth was a remaining selection of Swampy McSwamperson customs, with a guest appearance by Mikie Graham himself:
And these are just the tips of the iceberg, in terms of what wonderment was beheld at Designer Con 2012. Keep checking back here over the next couple of days as we explore several of the booths more in-depthly.
Similar posts
Tuesday, May 16, 2017 - 10:35pm

kaNO returns to NYC and is making a BIG splash on the Lower East Side!

Sunday, December 20, 2015 - 8:25pm

Need some last-minute inspiration for the holidays? Check out Clutter's Holiday 2015 Gifting Guide!