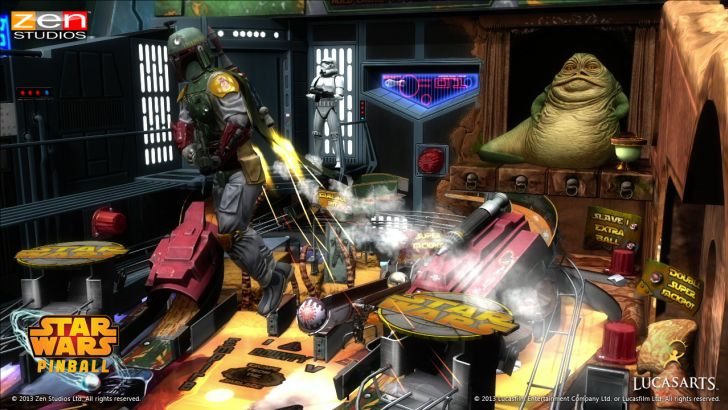 Zen Studios, the company behind top video game pinball simulations Zen Pinball and Pinball FX, will release Star Wars Pinball sometime this month on a wide array of platforms.
Available as a standalone app for iOS and Android devices, the Star Wars Pinball tables will also be released as downloadable content for Pinball FX2 on Xbox Live Arcade and Windows 8, Zen Pinball 2 on PlayStation Network (PlayStation 3 and Vita) and the Mac App Store, Zen Pinball for iOS, and Zen Pinball HD for Android. Essentially, if you have one of the company's current pinball titles, you'll probably be able to download the Star Wars tables for a fee.
The initial three-pack includes tables based on Star Wars V: The Empire Strikes Back, Boba Fett, and The Clone Wars animated series, though seven further Star Wars-themed tables are expected to be released down the line. No word on pricing or a firm release date yet, but expect the tables and standalone apps to start showing up by the end of February.
Similar posts
Wednesday, February 3, 2016 - 11:37am

Trainers, it's been 20 years since Professor Oak gave us our first starter Pokémon.

Tuesday, November 26, 2013 - 3:29pm

Klei Entertainment, the developers behind the hit video game Don't Starve, have teamed up with award-winning toy designer Erick Scarecrow to create not only a plush replica of one

Wednesday, June 12, 2013 - 5:51pm

The highlight of last years E3 was the yet to be released Watch Dogs from Ubisoft. This year Ubisoft did it again with Tom Clancy's: The Division, a post apocalyptic(ish) open world role play game where you roam a significantly different and terrifying New York City.