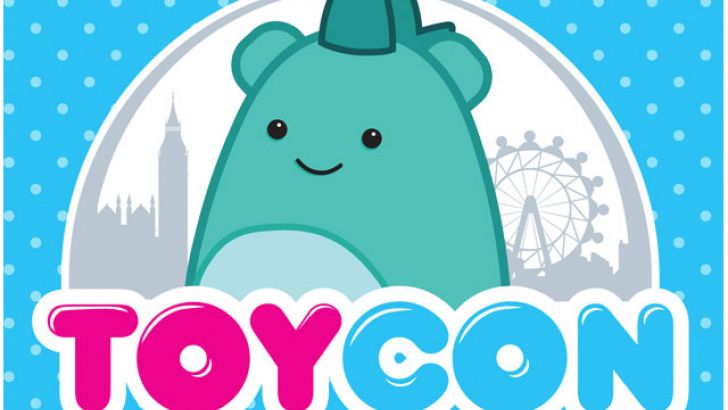 A Little Stranger has introduced a brand new breed of Cavey created exclusively for ToyConUK. This adorable Cavey is known as Toyconcaveysaurus, a not-so-ferocious dinosaur based of the ToyConUK mascot. There will be two versions of Toyconcaveysaurus, a vinyl & a plush, both very limited, ToyConUK exclusives. Plush Toyconcaveysaurus is made of bright aqua fleece with a teal blue spine and a baby blue fleece tummy. This little monster comes packaged with an enamel badge in a Cavey Cube & is limited to 25 numbered pieces. Available for £25 at ToyConUK with any remaining stock going in the Cavey Shop after the event. 
Vinyl Toyconcaveysaurus is limited to just 10 numbered pieces! A custom painted vinyl Cavey, Vinyl Toyconcaveysaurus also sports a hand-sewn plush fabric spine and comes packaged with an exclusive ToyConUK headercard. Available for £15 at ToyConUK. As with Plush Toyconcaveysaurus, any remaining Vinyl Toyconcaveysaurus will be available in the Cavey Shop after ToyCon is over. 
Similar posts
Saturday, January 23, 2021 - 4:36pm

Clutter has teamed up with NY-based artist Kyle Kirwan to bring you a brand new designer toy platform, The Brick!

Wednesday, November 25, 2020 - 5:10pm

Meet the latest member of the Canbot family!  One Formula Canbot by Sket One! The OG legend Sket One has teamed up with Czee13 & Clutter to bring you a killer series of Canz that are Classics.