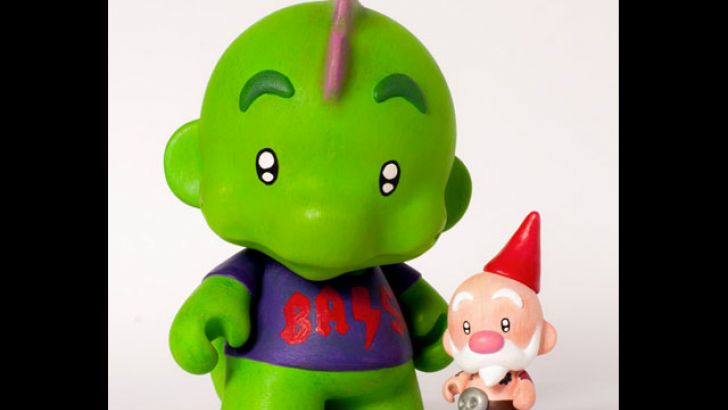 Bas Petter of Bashprojects has completed two new colorful custom figures for an American collector. The 7" & 2.5" Munny figures are called Rock n Roll Fred & Ginger: two music lovers on their was to see their favorite band live, in concert! 
"Fred is a huge fan of the rock band BA/AH. Because he was so sweet for Ginger she decided to suprise him. She put on a BA/SH t-shirt and told him to change because they were going to a BA/SH concert tonight. Fred was so excited that he ran into the house, took off his shirt, put on his skull belt & ran back out. Ginger was shocked.... Fred was covered in tattoos with a huge BA/SH tattoo on his back!"
Looks like this heavy metal gnome & his dinosaur metal chick are ready RAWK! Vistit Bashproject's website to see more of Bas Petter's fun customs & designs! 
Similar posts
Saturday, January 23, 2021 - 4:36pm

Clutter has teamed up with NY-based artist Kyle Kirwan to bring you a brand new designer toy platform, The Brick!

Wednesday, August 12, 2020 - 3:07pm

We are so excited to announce the first 3oz Canbot Blind Box Series!  A limited-edition toy mini-series launching through Kickstarter on Thursday, August 13th.