Posted by
Erica
July 09, 2013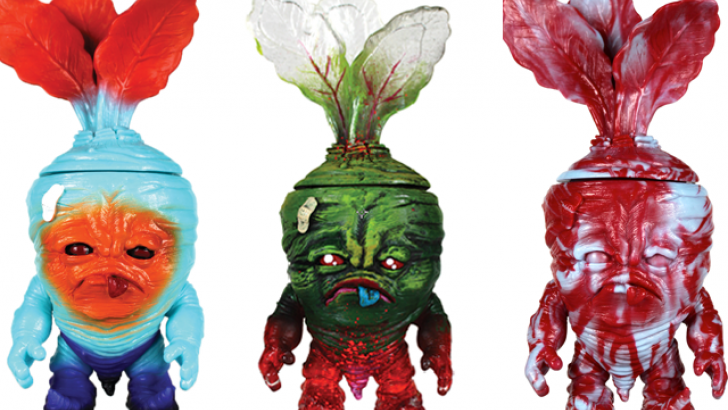 Scott Tolleson's Deadbeet will be sporting several different colorways, 3 to be exact, this year at San Diego Comic-Con!! These will be available at Tolleson's booth (#5139) at the convention. Each will come bagged with a header card and will be sold on a first come first serve basis. That's right! You'll have to beat the line to get a beet! 
First up is the Frozen Meaty Beet! Tolleson's personal favorite unpainted version of the Deadbeet, featuring a light blue and red marble. This will be an edition of 30 pcs. and will retail for $70.
Next is the Candy Apple version of the Deadbeet. Leecifer painted an edition of 10 of these bad boys for this SDCC release. He absolutely killed the paint job on these clears. They are amazing! These will go for $150 each. Lee will make an appearance to do a signing at the booth on Friday from 1-2 PM. Word on the street is he'll have something to give out to commemorate this collaboration!
Last but not least is the Faker Beet, a micro-run of only 5 pieces! Nebulon5 worked his magic again on this beet release featuring sprays on Tiffany blue Vinyl. This may be the grumpiest of all grumpy beets to be released to date! Look at that sour face! These will be $120 each.
Similar posts
Friday, January 13, 2017 - 9:24am

Scott Tolleson and Kidrobot have teamed together again-this time it's the Labbit platform that's getting the argyle treatment!

Friday, November 4, 2016 - 3:40pm

You probably don't need much convincing to go to DCON this year, but just in case you do, check out the preview for the Toy Within a Toy exhibition organized by Broke Piggy.