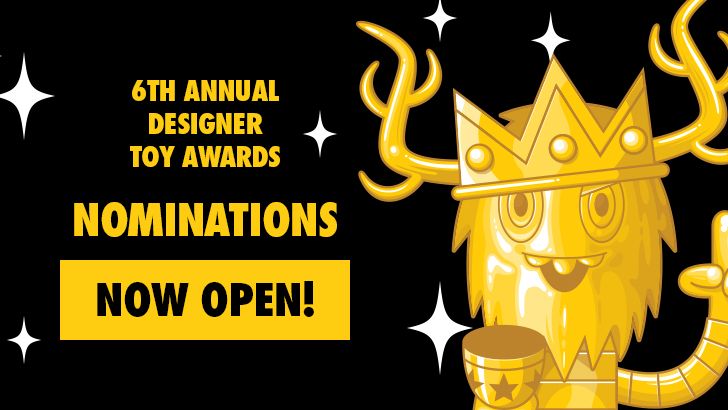 The DTAs have now officially launched the nomination period for the 6th annual awards! Running from now until August 10th (6pm EST), nominations can be submitted through the website designertoyawards.com. 
This year's awards will accept nominations for releases, artists, and companies, that were active from January to December 2015.
So Get Nominating…
Head on over to the Designer Toy Awards website and answer our "Call For Entries" by adding those worthy from 2015, and don't forget... only nominated items can be considered for the awards. If you want your piece to be considered please nominate it, there is no shame in nominating yourself or your own product! Voting for yourself.. well that's a different story ;) 
What's changed this year?
Due to demand, we added a brand new category! 
Introducing Best Non-Licensed!
Presented to an outstanding Designer Toy release with a design derived from an unofficially licensed or bootlegged entertainment property: film, television, video game, or anything else. Nominees in this category will be judged not only on their quality as a toy but also their representation of the original property.
Requirements:
Releases must be a brand new Designer Toy, or a significantly modified version of a previous release, that debut in 2015.
The design must have been derived from a non-licensed entertainment property.
The release must've been produced by an indie toy company (one that is not publicly traded), or artist.
Think Sucklord, Retroband, Killer Bootlegs, Special Ed Toys... The list is endless, and now they get true representation at the awards! 
How do the awards work?
Now in its 6th year, The Designer Toy Awards has honed its  process, listening to feedback and adjusting where ever it makes sense. We haven't made any structural changes to the awards process in the past few years, but just to recap, here is how it works:
1. Open Nominations -  Call for entries is open for anyone to make a relevant nomination. We rely on these nominations for the awards. These are not published on the website.
2. Nomination Committees -  The DTAs host small committees of industry professionals and fans, carefully matched to categories in order to reduce bias, to take the list of nominations and reduce them down to become the Finalists. The committees meet and discuss every entry, using the published list of award criteria to make their selects. These are published on the website as the years official finalists.
3. Voting - We run two voting blocks:
DTA Panel: Industry professionals make up the DTA panel. They are charged with voting ONCE per category for the winner in the panel voted awards. Each year new panel members are added to keep our list as diverse as possible.
Fan Voted: The public voters get ONE vote per category in the open Fan award. We do look at IP addresses, ISPN Hacks, and email address to reduce voter fraud. Each year we tighten up on potential attempts to "rig" the system.
4. Winners - Winners of each category are determined by the most votes in each category.  Clutter, nor The Designer Toy Awards staff, vote in or "choose" the winners. 
5. Awards Ceremony - The awards are presented at a ceremony that takes place during the weekend of NYCC. We encourage everyone to attend the ceremony, it really is an amazing evening!  
Similar posts
Tuesday, February 13, 2018 - 6:39pm

Nominations are officially open for the 8th annual Designer Toy Awards!