Posted by
Miranda
November 21, 2016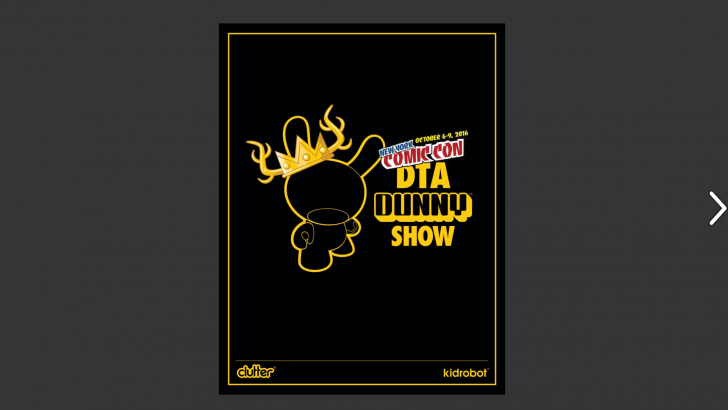 Did you miss out on checking out the NYCC DTA Dunny show this year? Well, the good news is we have put together this awesome show catalog to give you the opportunity to see the pieces up close and in detail. 
Celebrating the launch of the 5" blank Dunny platform, and the 6th Annual Designer Toy Awards, Kidrobot, Clutter and The Designer Toy Awards once again teamed up to bring collectors a visual treat! Bringing together some of the industries top artists from around the globe, for the NYCC DTA Dunny Show.
The list of participating artists included:
64 colors • Ally Burke • Amanda Louise Spayd • Camilla D'Errico • Chris Ryniak  • Dave Markart • Eimi Takano • Fiona Ng • Gary Ham • ibreaktoys • JeAA • The Bots • Jon-Paul Kaiser • Josh Mayhem • Kristina Drake • Lauren YS • Mike Strick • MJ Hsu • Mr. Mitote • Otto Bjornik • Patrick Wong • Quiccs • rxSEVEN • Sabrina Elliott • ScarecrowOven • Scott Wilkowski • Seriously Silly K x Scott Tolleson  •  Tasha Zimich • Tokyo Jesus • Tomodachi Island • wetworks • Yu Maeda & Zard Apuya.
Hope you enjoy flicking through the pages below!
Similar posts
Monday, September 3, 2018 - 10:02pm

The Clutter Gallery is proud to present an amazing solo spectacular from artist duo, Horrible Adorables! 

Monday, September 3, 2018 - 9:50pm

From the farthest reaches of Outer Space, beyond the Gum Gum Galaxy and the Nougat Nebula, lies a planet of Magical Sparkle Glitter. Once a year the inhabitants of the tinsel covered shiny wonder that is Planet Rainbow Sparkle invade the Clutter Gallery.