Posted by
Miranda
September 30, 2010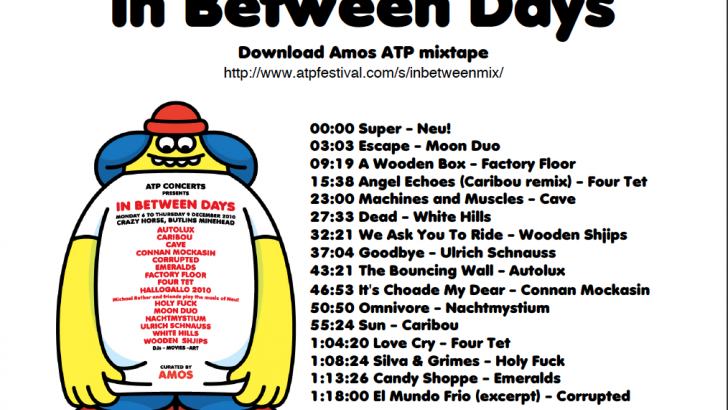 ATP has a new 4 night mini-festival taking place in December that is ideal for students who are finished for the term or anyone who can take time off during the week. If you always wanted to attend ATP but found the weekend events a little out of your price range or are coming for the weekend festivals from afar and would like to live in the wonderful world of ATP for 10 whole days check out In Between Days featuring Caribou, Four Tet, Holy Fuck, Autolux, Hallogallo and many more from Monday December 6th through Thursday December 9that Butlins Resort, Minehead,UK.
Tickets are just £100 per person, including 4 nights of accommodation and 4 nights of music. Until October 5th if you get a 4 berth apartment with two single beds and a double and use the code you can access below, the price for entry is just £75 per person (£300 per apartment)! That's less than £20 each per night for accommodation + 4 bands a night + DJs! This years In Between Days is curated by cult vinyl toy designers, Amos.
The curators on either side are Godspeed You! Black Emperor (Dec 3rd and Belle and Sebastian (Dec 10th 12th.Please email feedback@atpfestival.com with IN BETWEEN DAYS DISCOUNT before October 5th and you will receive a discount code to buy your tickets.For more information on In Between Days curated by Amos check out the website www.atpfestival.com/inbetweendays
Similar posts
Friday, October 2, 2015 - 10:00am

Our friends at Mezco are celebrating the spirit of Halloween a little early with their All Treat-No

Tuesday, October 7, 2014 - 11:45am

It's been a long time coming, but the good people at Artransmitte finally launching their new website!