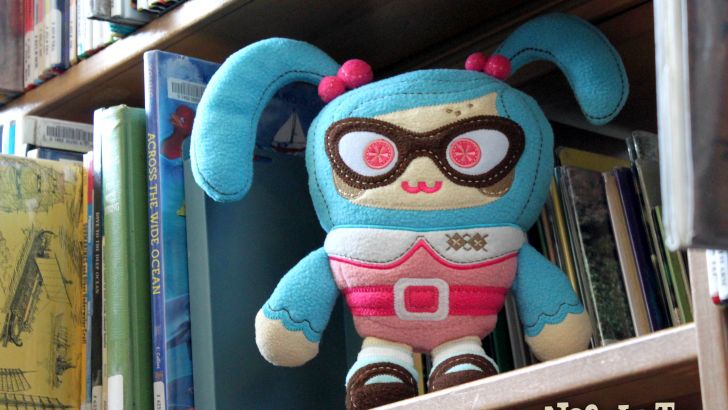 Say hello to Sayjo Bean. She's Lyle Bean's big sister and the newest member of  Scott Tolleson's Nosellots. Sayjo looks cute and adorable, but don't forget  - her cuteness masks her cerebral superiorities and like the other Nosellots, Sayjo Bean intends to control us lowly humans  and take over the world! Screw the zombie apocolypse, we need to be aware of these Nosellots.
Sayjo loves "patterned carpeting, flowering trees, and changing her eye wear. She is an expert at matching fabrics and you can tell when she is extremely pleased with herself when she randomly jumps  up and down from built up excitement. Plus, she knows all the best places to eat."
Sayjo Bean will debut at San Diego Comic Con 2012 . A limited Sayjo color variation wil be available at SDCC and through Screaming Sky Gallery. She is 11.5 " tall, has plenty of detailed stitching and bright colors. Sayjo is good to cuddle with because she's made of soft fleece.  
Don't forget to look for Sayjo Bean at San Diego Comic Con! 
Similar posts
Friday, January 13, 2017 - 9:24am

Scott Tolleson and Kidrobot have teamed together again-this time it's the Labbit platform that's getting the argyle treatment!

Friday, November 4, 2016 - 3:40pm

You probably don't need much convincing to go to DCON this year, but just in case you do, check out the preview for the Toy Within a Toy exhibition organized by Broke Piggy.