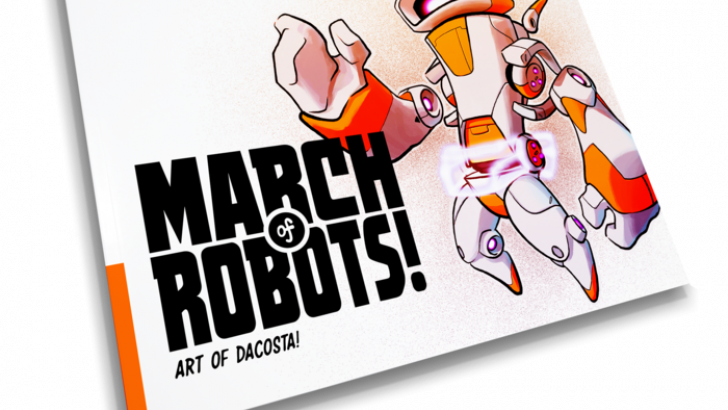 Long time Clutter friend Dacosta has recently launched an awesome kickstarter campaign titled 'MARCH of ROBOTS!' Cited to be the first collection of robot drawings and interactive augmented reality concepts by artist Dacosta!
The book will be a softcover book with 80 pages, printed in the US in full color on art-quality paper measuring 7.75" x 10". Inside the book you'll find all manner of robots, from super cute bots to action-ready mech. The project also has a digital side which goes beyond the boundaries of traditional print by incorporating "augmented reality".
Dacosta will also be collaborating with some awesome 3D modellers and animators from the film and gaming industries; Glen Southern, Scott Wetterschneider, Noel Rubin, Steve Talkowski aka Sketchbot and Roberto Oliveria. By downloading a free companion app, you will be able to view animated 3D models and other elements of select images through your smartphone or tablet cameras.
Sounds awesome right? So head on over to Kickstarter to show your support, only 11 days to go! 
Similar posts
Monday, February 5, 2018 - 8:15am

If you're kicking yourself for missing out on Rato Kim and Discordia Merchandising

Friday, February 2, 2018 - 12:38pm

Our good friends at Urban Vinyl Daily, The Bots and 64 Colors (what a trio!!) are entering the final few hours of the Luna a